Educational Expeditions
Are you looking for exciting educational adventures for your school or organization's children?
We have what you need! Our programs are perfect for teachers looking to supplement their curriculum with hands-on activities, sports teams looking for team building, youth groups looking to integrate outdoor activities and sustainability, and churches wanting to inspire leadership, promote academics, and stimulate the imagination!
Our programs run Kindergarten through 8th grade and are aligned with both Georgia and South Carolina Curriculum Standards.
Our Expeditions are led by Professionally Trained Educators that have Bachelors or Masters degrees in Education, and experience teaching children. Our Director is a licensed Superintendent and Educator.
Contact us at the Georgia Carolina Council at 706-733-5277 Extension 4 for a no obligation request for more information and to inquire about available dates.
---
See Sample Programs Below (More Programs Added Weekly)
Programs can also be tailored to your organization's needs upon request.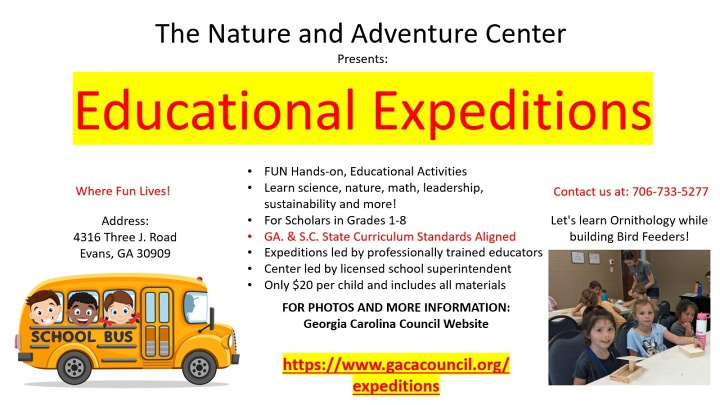 | File Name | Description | |
| --- | --- | --- |
| Elementary Grade 2 - Life Science Birds and Building | | Download |
| Elementary Grade 2 - Life Science Explore, Pollinate, Grow - Teacher Supplement | | Download |
| Elementary Grade 2 - Life Science: Explore, Pollinate, Grow | | Download |
| Elementary Grade 2 - Physical Science: Simple Machines | | Download |
| Elementary Grade 2 - Physical Science: Simple Machines - Key Concepts of Levers | | Download |
| Elementary Grade 3 - Life Science: Fur, Feathers, and Ferns | | Download |
| Elementary Grade 5 - Science: Interdependent Relationships in Ecosystems | | Download |
| Middle Grades 6-8 - Character Education: Decision Making Unit | | Download |
| Middle Grades 6-8 - Character Education: Equality Unit | | Download |