Webelos Resident Camp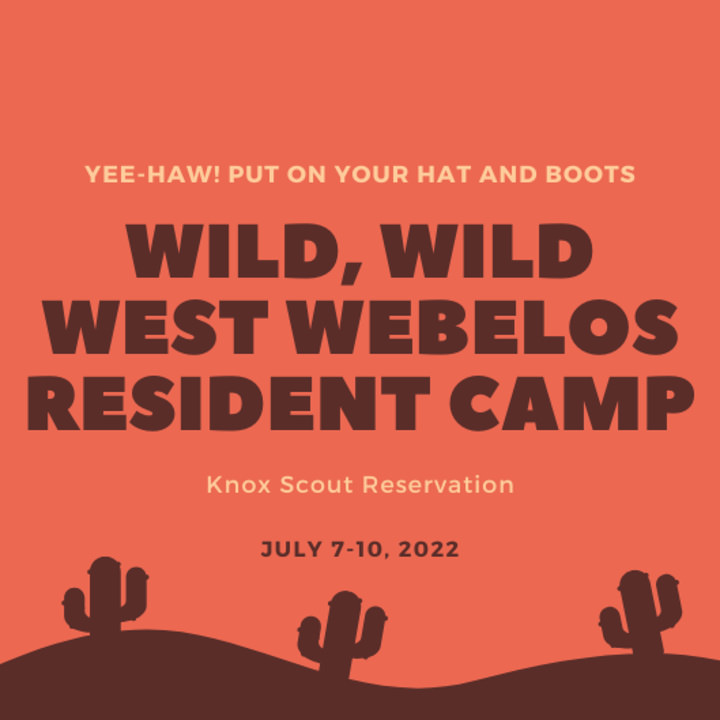 Date/Time:
Jul 7, 2022 4:00 pm to Jul 10, 2022 10:00 am
Location:
Camp Daniel Marshal
2144 Daniel Marshall Camp Rd.
Lincolnton, GA 30817

WILD, WILD WEST – Scouts this year you will go on an adventure of a lifetime as you journey across the United States, build railroads, experience the Gold Rush, or live on the frontier! However, you decide to create this adventure, it well be fun and memrabal.
This will be the best Webelos Resident camp EVER for the Scouts and leaders who attend!
Our Webelos camp is geared towards patrols camping with two or more adults however we welcome lone scouts camping with their parents and we'll place them into a patrol for the event we've list as the first stop transitioning into scouts, BSA and introduces cub scouts to the patrol method. During your camp, emphasis will be placed on working together as a patrol. Each patrol will select the activity for the class period. They will eat, camp, and travel together with their patrol flags that they created at camp.
So, talk to the rest of your den and get them excited get your Webelos and AOL Scouts done signed up and get ready to enjoy an amazing time at CDM as we participate in the Wild Wild West. Our staff has been working hard for this roundup since last year, and it won't be the same without YOU!. Our goal is to make sure that you and your Webelos/AOL scouts have the experience of a lifetime at the 2022 Webelos resident camp.
Please take the time to read through this leader guide. It explains what you need to do to plan for a great stay at camp and what you and your Webelos/AOL scouts can expect once you arrive at camp. The camp director will contact you to get your patrol choice for activities before camp starts so, please talk to your den about their choices. Make sure that every leader or parent that will be attending camp has had the opportunity to read this guide.
Each patrol will have six program periods. In each period they can choose from a list of fun activities including Webelos/AOL adventures, swimming, boating, shooting sports, bottle rockets, and crafting. If there are any questions you have about our program or how to attend do not hesitate to email me at tarheelmarine1@gmail.com or contact the council service center at 706-733-5277
I look forward to a fun filled stay with you and this summer at Camp Daniel Marshall.
Claude Davis
2022 Webelos Resident camp Director
Leaders Guide coming by May 13th,
| File Name | Description | |
| --- | --- | --- |
| 2022 Webelos Resident Camp Guide | Participant Guide for the 2022 Webelos Resident Camp | Download |