Council Top Shot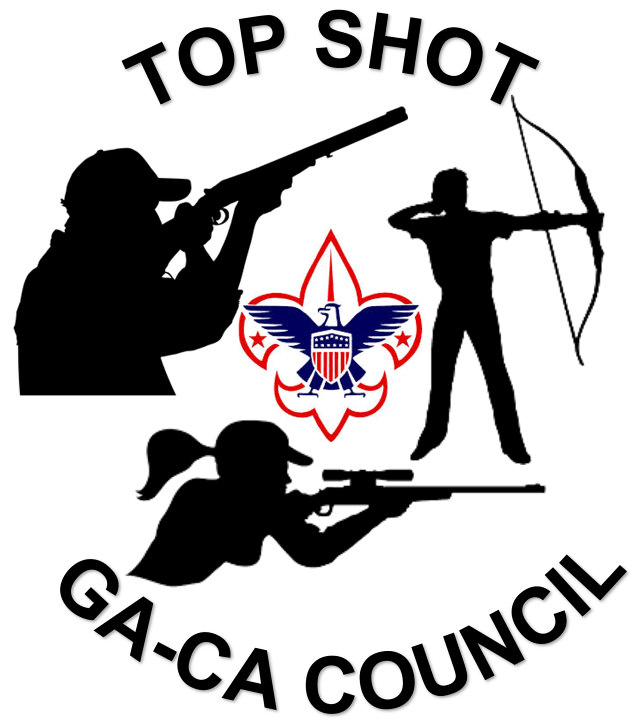 Date/Time:
Apr 13, 2024 8:30 am to 3:00 pm
Location:
Camp Robert E. Knox
1150 Fred R. Prater Parkway
Lincolnton, GA 30817

Shooting begins immediately after the 8:30 am safety briefing.
Council Top-Shot will be determined by score for each of three events - Rifle, Shotgun & Archery.
There will be a District Top-Shot for each discipline (Rifle/Shotgun/Archery), as well as an Overall District Top-Shot which will be inclusive of all three discipline scores.
Each Sub-District will be allowed to enter a maximum of 10 Scouts who will then compete in one or all disciplines. A Council winner will then be awarded based on score in an individual event. The candidates for Council Top Shot must compete in all three. Immediately after determining the District Top Shot, these three will then compete for Council Top Shot
Pre-Requisites: Scouts must have earned the merit badge in the event or events they intend to compete in. If a Scout is competing in all 3 shooting sports events, they must have earned all 3 merit badges.
Requirements: Sub-Districts are responsible to select 10 Scouts from their respective sub-district to participate and submit names with all required information (merit badge completion date, payment, district roster) to the council office NLT 1 April 2022 in accordance with the instructions on the council event calendar. Council office will receive sub-district rosters, verify participants meet the criteria listed above, receive payments, and provide a "paid roster" to the shooting sports team.
All Shooting Sports events are conducted by certified instructors and Range Safety Officers on the firearms ranges.
This activity will be conducted outdoors, so "BE PREPARED" and plan accordingly.
Mandatory Safety Briefing begins at 8:30 am and must be attended by all participants!
Please print, sign, and bring the following forms with you to the event:
Permission Slip
| File Name | Description | |
| --- | --- | --- |
| Permission Slip - Shooting Sports | | Download |