Adventure Pass 2024
Adventure Pass is a discounted card to businesses in the Georgia-Carolina Council that our Scouts annually use as a fundraiser for Scouting activities. For every $10.00 pass sold, your Scout earns $5.00 for their unit. (UP FROM 2023!!!)
Key Dates
Pick Up Cards Begins: February 26, 2024
Sales End May 10
Payment Due May 17
CHALLENGE: Each Scout will be asked to sell at least 10 Adventure Passes.
Each Troop or Pack will be issued 10 Adventure Passes for each Scout in their unit.
FOR CARDS NOT SOLD and returned: the unit will pay the Council $0.25 for every card taken, but did not sell.
FOR EXAMPLE: Unit requests 250 passes for their 25 Scouts.The Unit sells 200. The unit earns $1,000 gross. That's $500 for their unit, and $500 sent to the Council for the cards sold, and an additional $12.50 (250-200 sold = 50*.25 = 12.50) for the 100 unsold cards.
Download the Leaders Guide below in "Resources" section for more information and to learn about the 2024 program.
Thank you to the local businesses who support Scouting through particpation in the Adventure Pass Program.
Georgia Carolina Council plans to have one Adventure Pass for all units with items that cross geographic boundaries!
In the theme of Scouting and spending family time together while enjoying activities that get us off the couch and off the cellphones, Georgia Carolina Council will be issuing an Adventure Pass with discounted items and services predominately geared toward action and adventure, while spending quality family time together.
*Printed paper copies of this card are not valid. They may be printed for display purposes, but are not to be resold or used. Only official plastic cards will be honored by the local vendors that have offered great discounts to support Scouting.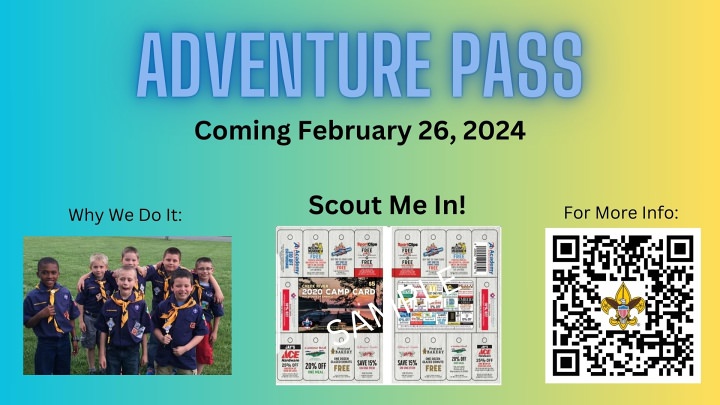 | File Name | Description | |
| --- | --- | --- |
| 2024 Pass Masters Leaders Guide | | Download |
| 2024 Printable Leaders Guide (2 page overview) | Printable 2-page Leaders Guide | Download |
| Position | Name | Telephone | |
| --- | --- | --- | --- |
| Program Director | Tim | (706) 733-5277 x104 | |
ONLY USE FOR CUSTOMERS USING CREDIT CARDS IF YOUR UNIT HAS NO WAY OF PROCESSING CREDIT CARD ORDERS. ALL UNITS SHOULD HAVE VENMO, CASHAPP, AND SQUARE. THIS IS JUST FOR UNITS WITHOUT THESE OPTIONS FOR CUSTOMER PURCHASES. ITS AN OPTION.