2019 Spook-o-ree
Fellow Scouters,
Good morning. With the impending weather forecast and Tropical Storm Nester bringing a 100% chance of rain all day we have made a decision to push the Spookorie Campout back 1 weekend.
The storm is called to bring 2 - 3 inches of rain with heavy winds and possible lightning.
The Spookorie will be held NEXT Weekend October 25-26-27.
We apologize for this change, but the safety of our Scouts and Scouters is our most important duty. Please communicate this change with those in your Pack.
If you have Scouts that can not attend next weekend please submit a written refund request to me as a Pack, so that we are dealing with a limited number of requests. We will refund payment to each unit, and you can then refund to the individual families. On the request I will need your Pack # and the names of those who can not attend. We will process these requests in early November.
Likewise, if you have additional families that can attend, we should have room to add them in.
Staff, I know this change may impact you, please let Esther know ASAP if your available next weekend so we can work to fill our staff positions.
Thank each of you for your leadership and help in working with us to make this event a fun time for all involved. This is the correct decision for our Cub Scouts and families.
Spook-o-ree is the Georgia-Carolina Council's premier Cub Scout event. A weekend of Halloween fun at Knox Scout Reservation, the event features a variety of activities — including archery, BB-gun shooting, fishing, trick-or-treating and a variety of Haloween activities. 1,200 Scouts and family members are expected to attend the event. The theme of this year's Spook-o-ree is Creepy Crawly Spookoree.
Full-time staff volunteers please register at the following link:
Registration is now open. No registrations will be accepted after Friday, Oct. 4, 2019. No exceptions.
Order Spookoree T-Shirts on the form below.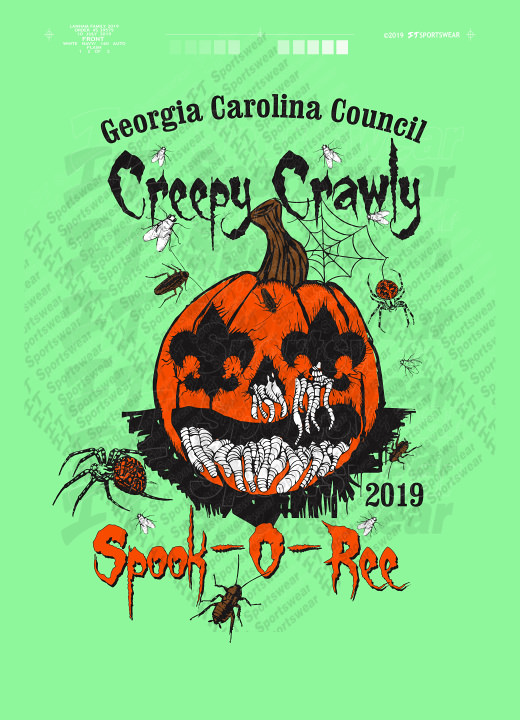 | Position | Name | Telephone | |
| --- | --- | --- | --- |
| Spook-o-ree Chair | Esther Jackson | | Email |